THE LANG BOYZ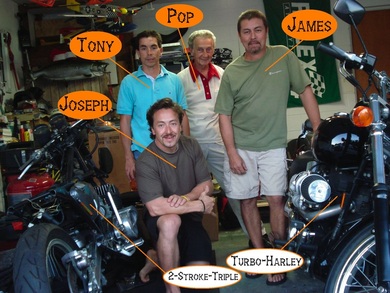 The "Lang Boys", as we were often called growing-up in the inner- city Philadelphia neighborhood of Olney, acquired a passion for motorcycles during the early 1970's with the purchase of an EZ Rider minibike (for $15.23 - back then, we could fill the quart tank for around 15 cents ... we know ... old dudes !!!), with a 3.5 bhp Tecumseh motor, extended forks, no suspension, zebra seat, sissy bar and foot brakes (i.e.: Converse All-Stars "Chucks" scraped along the street, dirt or sidewalk), and a throttle which consisted of a piece of string attached to the carb linkage (that is until we replaced it with a brake handle/cable)… we have been hooked ever since … too bad many of the neighbors and Philly cops did not share our passion! Having owned, wrenched on and customized dozens of bikes during the past few decades, our passion for bikes has continued to grow. Opening our own shop had always been a dream the Lang Brothers discussed many times over the years; however, family / careers / mixed-up priorities / excuses / crap always seemed to keep this dream just that … a dream ... maybe even a "pipe dream"!

Due to recent circumstances and lots of other "stuff" in his life, Joe decided to leave the beautiful beaches of Malibu, CA (and the realm of Corporate America) to be closer to family – hmmmm, a difficult choice as his family is located both in Florida and Hawaii … so, Florida it was as his Pop and older brother Jim and his family are located there … Hawaii and his younger brother Tony and his family will have to settle for occasional visits (also, Florida is much cheaper than Hawaii – especially the cost of shop space!).

After several discussions with Jim and the family, Bare Bone Rides, Inc. was born – the name … well, our philosophy is about getting back to basics with these bikes – we are convinced every motorcycle has a soul, a true essence that is often disguised with extras and unnecessary parts/plastics/metal/crap. We do our best to expose the essence and personality of these machines. In many cases, these bikes have been rescued from going to the motorcycle graveyard ("salvage/junk" yards) where the meat on these bikes is slowly picked clean … clean to the bone often times with nothing left. A sad sight indeed as many of these bikes have lost their soul … if we can help it, we plan on saving as many as possible before they end up as rusted skeletons waiting for the elements to reclaim their remains back to their original basic elements. And by the way, in our opinion, ALL bikes have a true essence regardless of size, race, color, creed or religion (i.e.: we have many project bikes planned for the future - American, Japanese, European, etc. - you name it, if it has two wheels and a motor, we want to make it a one-off/custom BBR ride!!!). With very limited resources and a truly shoe-string operating budget, the Lang Brothers were able to scrape enough money & equipment together to open their custom motorcycle shop in Merritt Island, Florida. It is a humble shop but, it is now equipped with the machinery/tools necessary for the Lang Boyz to build their custom BBR creations! Thank you for taking the time to read our story and to connect with us - it means a lot to the entire BBR family!

---